The CNC router is a relatively practical equipment in the Blue Elephant CNC panel furniture production line. It is suitable for a wide range of materials and has more complete functions. It can be said that one machine is multi-purpose. So do you know what the scope of application of this equipment is? What are the characteristics of the equipment? Next, Blue Elephant CNC will introduce it to you.
Below we introduce the scope of application and use characteristics of this device:
First, the scope of application of CNC router:
Furniture: panel furniture, office furniture, custom furniture, cabinets, wardrobes, wooden doors, bedside tables, etc.
Second, the advantages of CNC router:
This machine is suitable for processing diverse and complex products, and has a wide range of uses: cutting, drilling, grooving, edging, milling, etc.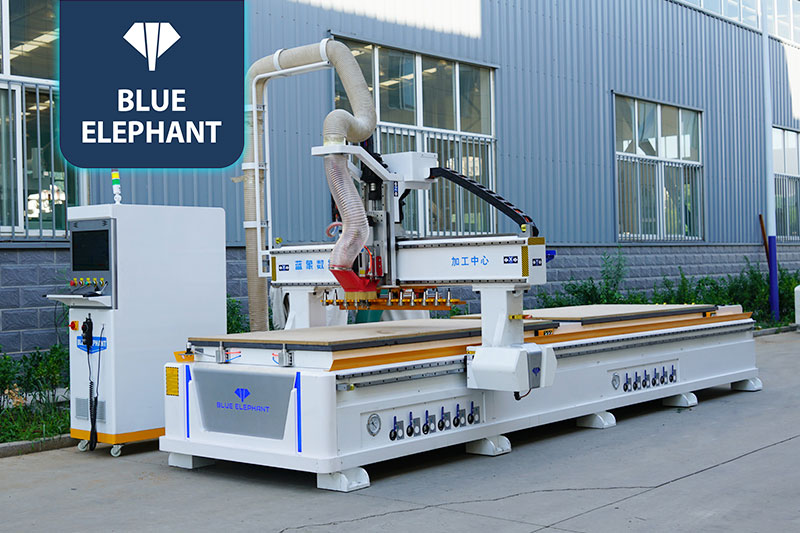 The bed adopts a new type of large square tube, which is stable and does not deform.
This model adopts imported components such as Italian original imported spindle, servo drive system, Japan Xinbao reducer, and has stable performance.
Automatic tool change system, tool magazine capacity is 12, automatic tool change in 0 seconds.
The vacuum adsorption table can adsorb plates of different sizes, and there will be no running plate during the processing, so as to ensure the processing accuracy.
Fully automatic loading and unloading platform, the plate is automatically pushed down from the processing table after the processing is completed, which is convenient for the operator to take the material, saves the idle time, and has high efficiency;
The CNC router has outstanding advantages and powerful functions. The application of automatic loading and unloading platform improves production efficiency and saves labor. In short, in many ways, the device application is more practical.