There are many manufacturers of CNC Router with uneven production capacity. Some machines are of poor quality, and some have no workshop. So which brands of CNC Router are more reliable? How to find a good manufacturer from many manufacturers Woolen cloth?
1. To determine the nature of the manufacturer, first find out whether the seller is a manufacturer or a distributor. Blue Elephant recommends choosing the manufacturer. Because as a manufacturer, there will be rich experience in CNC machine tool production, which can not only ensure the quality of the machine, but also have a large selection of machines.
2. Inspect the production strength of the factory. The production strength of the manufacturer is one of the important factors affecting the quality of the machine, such as the research and development strength of the manufacturer. Blue Elephant CNC has more than 10 years of experience in the CNC industry, and a team of more than 300 people provides you with customized products and services. Among them, there are more than 30 R&D teams, and the products are constantly updated and iterated to meet the needs of the market and users. It is well received by users, and its products are exported to more than 130 countries and regions including Europe and the United States, and has provided customized services for more than 8,000 users.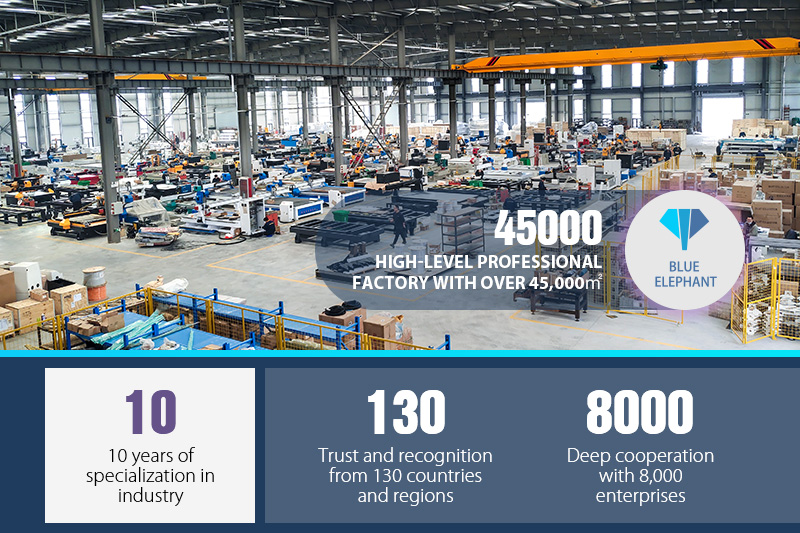 3. Manufacturers' supporting services, such as after-sales service and training, etc., when purchasing products, there will be corresponding supporting services to ensure that we can use them normally and bring us economic benefits. CNC cutting machine manufacturers also need supporting services to reassure users. For example, we need to consider pre-sales services, such as factory site visits, sample proofing, etc., as well as after-sales service teams that provide installation guides, instructions for use, machine warranty, troubleshooting and other services can relieve users from worries.
4. It is recommended to go to the factory for on-the-spot inspection to truly check the production status of the factory.
A good quality cutting machine needs to meet the requirements of precision, processing capacity, adsorption and dust collection. Blue Elephant CNC is a regular manufacturer specializing in the production of a complete set of panel furniture production lines. It has complete models: four-process cutting machine, in-line automatic tool changing machining center, non-hole processing center, double-station CNC Router, etc. Models to choose from. Based on years of customer experience, and constantly improve the details, choose parts with stable quality, avoid all problems that may occur in the production process, reduce the replacement rate of wearing parts, and greatly reduce the failure rate, so that customers are no longer troubled by after-sales problems. Headache, high precision, no edge chipping and sawtooth. Blue Elephant CNC has strict requirements on every link of the production process.