The era of intelligent CNC cutting equipment has arrived. Are you still using traditional low-power cutting equipment to push table saws? Or use relatively backward technology to process and produce? In a panel furniture enterprise with increasingly fierce competition in the industry, you need to plan for the development of your own factory. If you do not increase orders and insist on existing output, how to achieve greater transformation of benefits?
The table saw needs two workers to complete the work, and the panel furniture router is equipped with professional system software, which is easy to operate. It is easier to get started, as long as employees pass our training, they can operate the equipment, which is very convenient, and more importantly, it can save a lot of labor costs.
In addition to special shapes, the push table saw can process 50 sheets a day, but the processing speed of the intelligent automatic router can reach about 80-100 sheets, and the efficiency is significantly improved!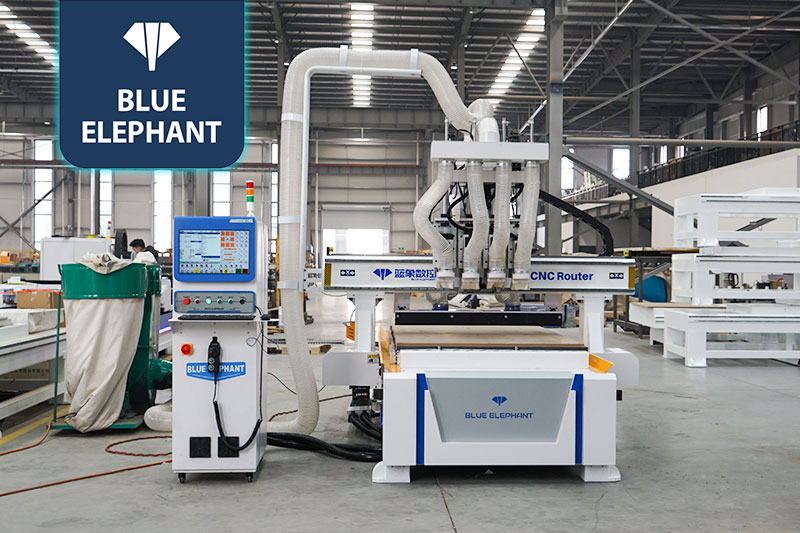 cnc router
Here, we will talk about the characteristics of the system software of panel furniture CNC router:
The processing efficiency is relatively high, with the characteristics of high-speed connection, and can be used for 3D graphics simulation and real-time 3D display of the processing process.
Easy to learn and easy to operate, can automatically switch the spindle tool, processing becomes easier.
The processing effect can also be improved through rich parameters.
Blue Elephant CNC router manufacturer seeks efficiency by management, survival by quality, and development by reputation And perfect system services, open up domestic and foreign markets, and create industry-specific brands.