Everyone knows the advantages of CNC Router? Intelligent, efficient, fast, high processing precision, low labor requirements, simple operation and so on! With the development of the panel furniture industry, the CNC Router is also constantly improving. Jinan Lanxiang CNC Machinery Co., Ltd. is one of the early manufacturers to develop the CNC Router. The CNC Router plays a greater role in the production of panel furniture. effect.
CNC Router is also a kind of CNC machine tool, which can be regarded as an extension of CNC machine tool. Usually, the Routers used in our panel furniture production line are all 1325 CNC Routers, which means that the processing range is 1.3m and 2.5m.
Blue Elephant CNC has stricter technical requirements for assemblers, such as the parallelism and flatness of the countertop. , all require skilled workers to control. In the process of equipment processing, Lanxiang has strict requirements on the body of the Router to ensure the cutting accuracy of the Router.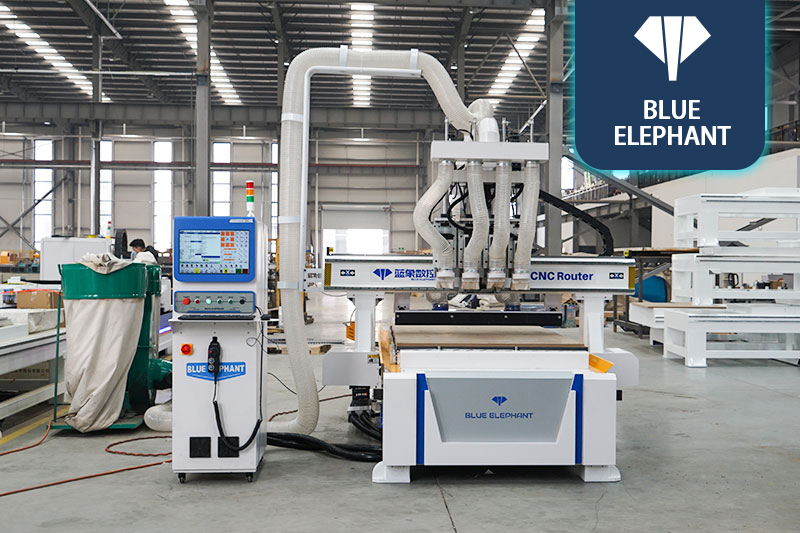 The main advantage of CNC Router is that the processing efficiency is relatively high.
1. Because the CNC Router adopts software to dismantle orders, automatically locate, optimize cutting, punching and grooving in one.
2. After processing, the countertop can be cleaned in time to save time.
3. Load the material on the unused table in time to improve the processing efficiency and not waste time.
In general, the CNC Router can improve the processing efficiency by at least 30% compared with the ordinary Router. If you have a large business volume and have requirements for processing efficiency, the Blue Elephant CNC Router must be your good choice!